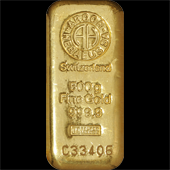 .
500 gram Gold bars 999.9
PRICE


Buy: 28'556.25 CHF
Sell: 29'332.70 CHF

Prices quoted are per bar and are given for guidance only.
In addition to the Finemetal Gold Ounce, we offer cast bars from 100 grams to 1 kilo at the latest Daily Prices. The gold bars minted by Argor Heraeus SA are fabricated in "Good Delivery" LBMA standard fine quality 999.9 and are accompanied by a quality certificate.
Contact Us
Print