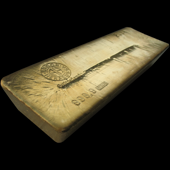 .
.
12.5 kg Standard Gold bars 999.9
PRICE


Buy: 667'387.81 CHF
Sell: 679'436.94 CHF

Prices quoted are per bar and are given for guidance only.
In addition to the Finemetal Gold Ounce, we offer the 12.5 kg Standard Gold bar at the latest Daily Prices. The Standard Gold bar mindet by Argor Heraeus SA is fabricated in "Good Delivery" LBMA standard fine quality 999.9 and is accompanied by a quality certificate.
Contact Us
Print