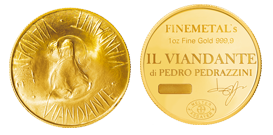 Limited Edition 300 pieces
IL VIANDANTE Gold Ounce 999.9
Produced by :
Argor Heraeus
,Switzerland (
LBMA
)
Issued by :
FINEMETAL AG
Weight : 31.1035g
Fineness : 999.9/1000
Dimensions in mm : Diameter x Thickness 31.5 x 2.1
Price per Piece: 1'950.00 CHF

(Target price)

The artistic and limited IL VIANDANTE Gold Ounce 999.9 is available in an edition of 300 pieces. The Gold Ounce is packed in a representative Plexiglas box with certificate.

With the following order form you can order your desired number of pieces. Upon receiving your order we will contact you by phone to fix the current price of the Gold Ounce.